King Of Leon @ Birmingham NIA
December 10th 2007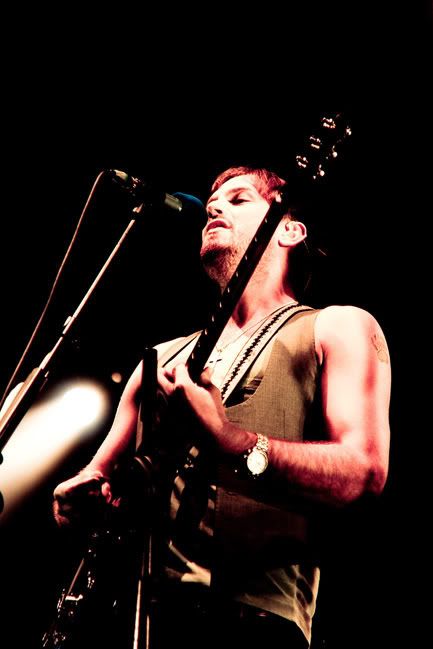 Those of us not fortunate enough to be at the historic Led Zeppelin gig were at lease fortunate enough to have a spare evening to enjoy the Kings of Leon. Sadly, gone are the days when a KOL gig was for over 18's only. This gig seemed to be for anyone aged between 8 and 80! I was surprised to see how many children had turned out!
I've been to KOL gigs where the sweat of the crowd dripped from the roof, the floor bounced with the stamps of feet and the KOL onslaught deafened. Unfortunately at this gig you couldn't even see the roof, the floor couldn't be shook by an elephant falling through the ceiling and the KOL's sounds seemed to evaporate before it left the boys. Even their entrance seemed to be an ill timed, impersonal blunder. Most of the crowd didn't even realise they had come on stage. While everyone mulled about, cued at the bar and found their seats the KOL came out playing. I don't think their crew had even turned the lights down. It took a couple of songs for the standing gig junkies to find their way to the floor. Thankfully about four songs in people seemed to arrive and the gig started to feel like a gig.
One of the highlights of the gig was the cameras dotted around the boys. The images were projected onto four screens either side of the stage. Every few songs the camera turned on the crowd… I cannot describe how hilarious this was. Praise be to crowd cam… you had to be there! Genius!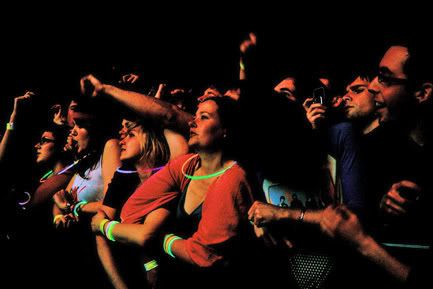 The KOL definitely have a fan base that joined them at Because of the Times. Knocked Up, Charmer, On Call, My Party and Fans were met with excited cheers while Spiral Staircase (Brilliant!) and Holy Roller Novocaine mustered only a dull humm of approval. Trani was completely mesmerising and the boys newly employed light show complimented in perfectly.
The KOL are just as exciting as ever, they sound as amazing as ever and they still have the unquestionable power to make every song in their back catalogue sound like an A side. It's just that the stage is bigger. I suppose we have to remember even the mighty Led Zeppelin started on a small stage.
Words – Cherry Barrett
Photos by Bianca Barrett