After two massive albums and a fairly meteoric rise to the realms of indie superstars, Kaiser Chiefs are more often than not found parading around stadiums or headlining festivals before a cast of thousands. So it's surprising to find them performing to a few hundred punters down at Birmingham's Barfly on a Friday night in February.
These punters, however, are largely made up of competition winners and invited guests, with some travelling from as far as Brighton just for tonight's show. And the largely older-than-usual crowd are treated to an evening of indie anthems delivered by a band who seem to relish the chance to play in such a small venue for a change.
Opening with recent single "Everything Is Average Nowadays" it's quickly apparent that this is no average show for Kaiser Chiefs. Singer, Ricky Wilson, immediately jumps the barrier and pushes his way through the crowd as a sea of cameras and mobile phones are thrust in his face. "Put your cameras away and start living in the moment" advises Ricky before clambering his way back to the Barfly stage.
Tonight, songs which might sound flat and forgettable in an arena suddenly fire into life in such an intimate setting. "Modern Way" becomes a huge singalong anthem and "I Predict A Riot" takes the energy levels through the roof.
Apart from the mega-hit, "Ruby", tracks from the "Yours Truly Angry Mob" album struggle to match the impact of earlier hits and it's left to "Oh My God" to predictably bring the biggest cheer of the night followed by another mighty chorus. Ricky sprints back out into the crowd and climbs up above them, clearly enjoying every minute.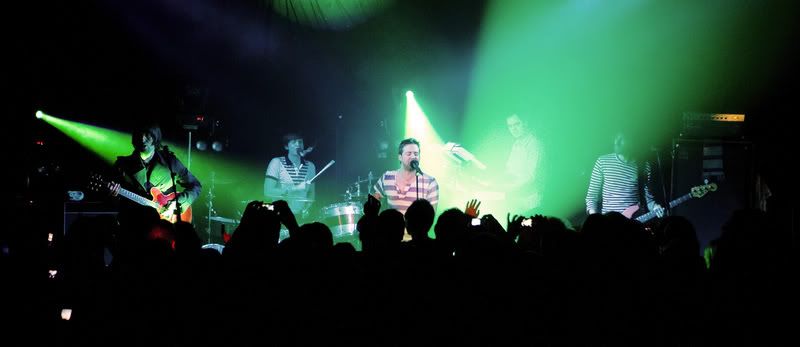 It always feels like a privilege to witness a huge band in a small venue and tonight is no exception. Kaiser Chiefs and a few hundred lucky punters have an evening which is far better than average.
Words & Photos – Steve Gerrard ROCK PHOTO