Jimmy Eat World @ Birmingham Academy – 19th February 2008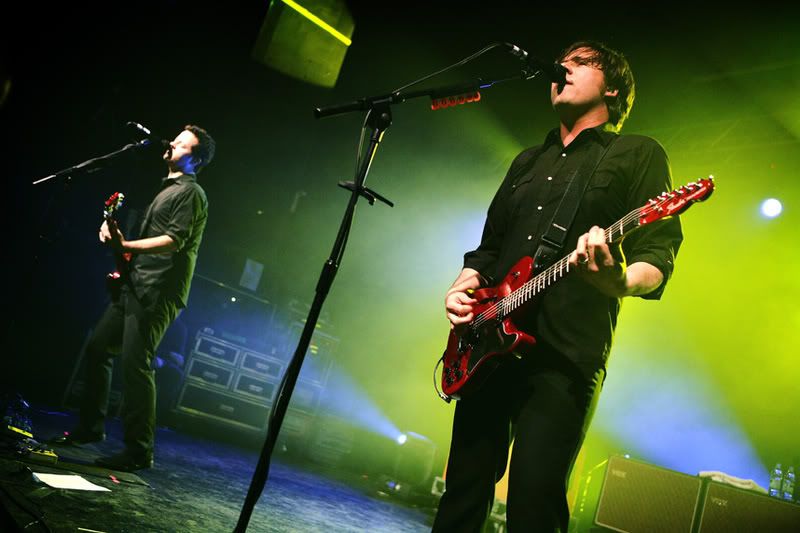 Jimmy Eat World singer Jim Adkins is not your typical frontman of a multi-platinum selling punk rock band. If you didn't know better you'd happily believe him if he told you he were a teacher or a solicitor. And yet here he is on stage at the Academy in front of 3000 adoring fans with a huge smile on his face. In fact, there are a lot of smiles everywhere. Jimmy Eat World seem to be a band who actively encourage a positive frame of mind, and their soaring choruses and infectious harmonies have the majority of the audience singing along to every word of every song.
With a stripped down stage set and a healthy back catalogue to mine, Arizona's finest have sold out the Academy's main room and attracted a mixed crowd of young emo kids, uni students and middle-aged rockers to witness a set filled with uplifting anthemic punk tunes which, although occasionally veering into pop territory, sound slick and custom-made for American radio or blockbuster movie soundtracks.
On the down side, tonight's set is somewhat on the short side with "Pain" ending a 50 minute set before the band return with a 4 song encore which sees Adkins strap on an acoustic guitar for the downbeat "Your House". Where once there were lighters held aloft, now we get a sea of cameras and mobile phones, mostly filming snippets of the show ready to upload to YouTube the next day.
"These fans win the crazy fan award", says Adkins pointing to the front row. "You guys were here before us just to get you prime piece of real estate at the front". You're crazy but we love you for it". The feeing is undoubtedly mutual and "The Middle" is greeted with the biggest screams of the night and it's a rousing finale. As the doors fly open to sub-zero temperatures outside, the hoards wander home – still smiling.
Words & Photos – Steve Gerrard ROCK PHOTO
About Author