Hot Chip @ Wolverhampton Wulfrun Hall – 22nd February 2008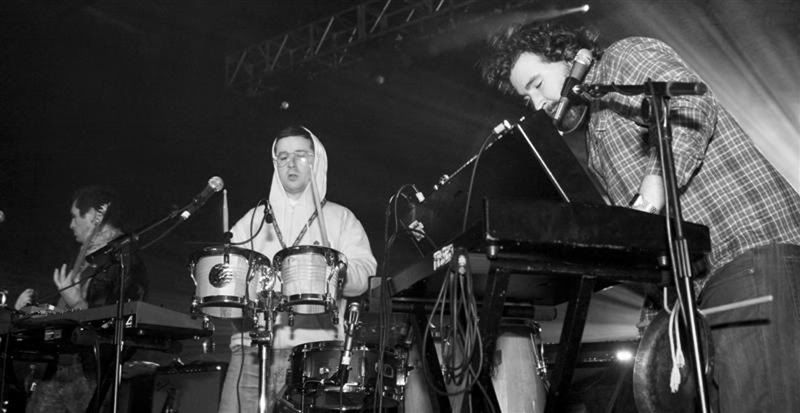 Friday nights are often electric after a boring mundane working week – its time for masses of people to cut lose and let their hair down. This Friday is certainly no different, and at first sight of the jam-packed Wulfrun it is evident that the audience were about to witness something special.
Hot Chip they were indeed, in fact they should perhaps consider changing their names to Flaming Chip after a set so red hot even the bar staff had singed eyebrows at the back of the auditorium. Starting off with the blazing 'Shake a Fist' the crowd were shaking more than their fists, not even the sight of lead singer Alexis' Wu-Tang clan hoodie could deter anyone from their sheer genius on stage.
The early parts of the set included a roaring combination of 'Bendable Poseable', 'Hold On' and 'Boy from School', then the coolest geeks on the planet launched into the obvious crowd pleaser 'Over & Over' to cause a mass dance-athon throughout the crowd. When keyboardist maestro Joe exclaimed, "this is the most hyper crowd ever" he wasn't far wrong, as Hot Chip attendees are usually quite reserved when it comes to exerting their love of a particular song.
The crowd were continually on form throughout the proceedings and Hot Chip too didn't disappoint with expertly timed renditions of "One Pure Thought" and "Don't Dance" which gave the obvious audience members that haven't had the pleasure of sampling their new album a great taster of what they are sadly missing.
Overall, although not blatantly genre specific, each track from 'Made in the Dark' intermingled with one another better than a heavenly helping of strawberries & cream or should that be 'Caramel'?
By mixing in a number of tracks from 'The Warning' the band simply covered all bases and pleased the mixed audience made up of nu-rave teenagers, middle aged geeks, girls dressed up to the nines and loyal followers. The rip-roaring encore consisted of a nice slice of 'Ready for the Floor' that geared up the crowd for one last dance before the sublime slow-burner 'Privacy of our love' to round things off.
It is certain that Hot Chip are well on their way to becoming a huge headline act with high new entries in both single & album charts currently, and a headline spot at Glastonbury circulating on the rumour mill — 2008 may well be the year of the super geek.
Words – Kimberley Owen
Photos – Lee Allen
About Author