W ithin 60 seconds of hitting the stage, the sold out Civic Hall is a sea of bodies jumping and punching the air, every face fixed on a band who know exactly how to work a room while throwing down monstrous riffs and thundering beats. This, however is not the headlining act. It's only 7:30 and first support of the evening, Skindred, are showing they're not here to warm things up, they're here to steal the show. And 30 minutes later it's job done!
Continuous touring has seen Still Remains develop a stage presence that could easily see them headlining venues this size very soon. Having the keyboards way up in the mix dampens their sound somewhat tonight but the band give it their all and there's a real rapport with their audience. And with tracks like "Worst Is Yet To Come" they already have a few aces up their sleeve.
As Bullet For My Valentine appear on stage all guns blazing beneath a wall of pyrotechnics, they're welcomed like conquering heroes and the hoards go suitably apeshit.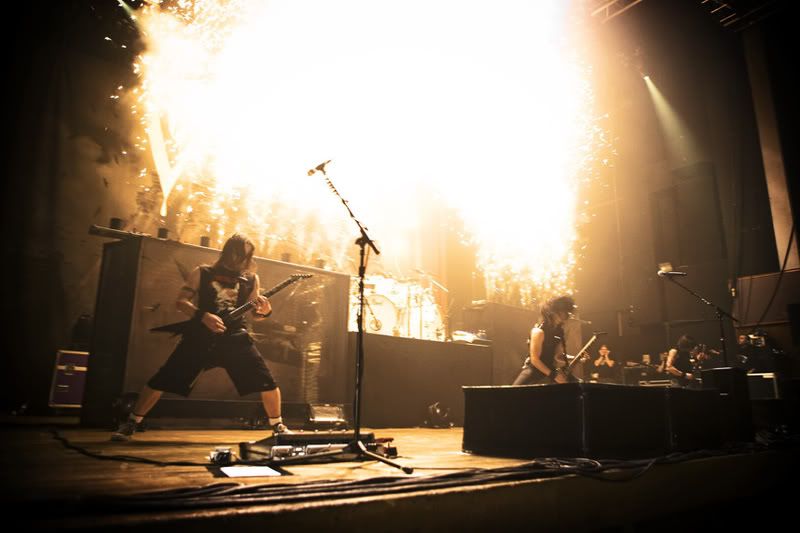 Bodies fly toward the stage and disappear over the barrier as the band plough into the title track from new album Scream Aim Fire, sounding slicker and more polished than ever. Matt Tuck's voice does have a tendency to get somewhat monotonous at times, lacking the real force to match the ferocity of the tunes and at times it's left to bassist Jay to show some real passion in his performance. Occasionally though Bullet really hit their stride and on tracks like Spit You Out and The End they justify themselves admirably.
"We're gonna finish on a high with the heaviest fucking song we've ever written" screams Tuck, and, as another wall of flame bursts to life behind drummer Moose, Waking The Demon sounds immense and sends 3000 metalheads out into the freezing Wolverhampton night more than satisfied.
Words & Photos – Steve Gerrard ROCK PHOTO