If there were any doubt as to where tonight's Capsule gig was being held, the rattling shutters of the Medicine Bar might just give the game away! South Wales three-piece Taint certainly know how to make a big noise and their heavy groove has set things off nicely. Paying tribute to the home of Black Sabbath, Taint are a band you should certainly pay attention to if you enjoy music with a bit of weight behind it.
Hailing from Savannah, Georgia, Kylesa already have a healthy underground following in the UK. With two drummers pummeling away at their kits, the band's sound is a sonic attack taking influences from metal, punk, classic rock and everything in between. Tonight though they seem to replace their deep, heavy sound with something altogether harsher; the twin drummers becoming more of a clatter than a percussive assault.
It's left to headliners Baroness to really up the ante and they do not disappoint. Also from Savannah (as are the mighty Mastodon), the band's last album was hailed as one of the albums of 2007, and tonight the twin guitar attack mixed with a filthy bass sound fill the room alongside John Baizley's distended, growling vocals. And drummer Allen Blickle makes a bigger noise than Kylesa's two sticksmen combined! The set leans heavily on the recent "Red Album" with monstrous riffs juxtaposed with gentle interludes before the full weight of the Baroness sound once again comes crashing down.
Certainly no ordinary metal band, Baroness always leave you guessing. Even their most ferocious tracks are often bookended by gentle soundscapes or acoustic guitars.
Capsule have a reputation for hosting diverse yet invigorating musical acts and on a cold Tuesday in January they once again bring something special to Birmingham.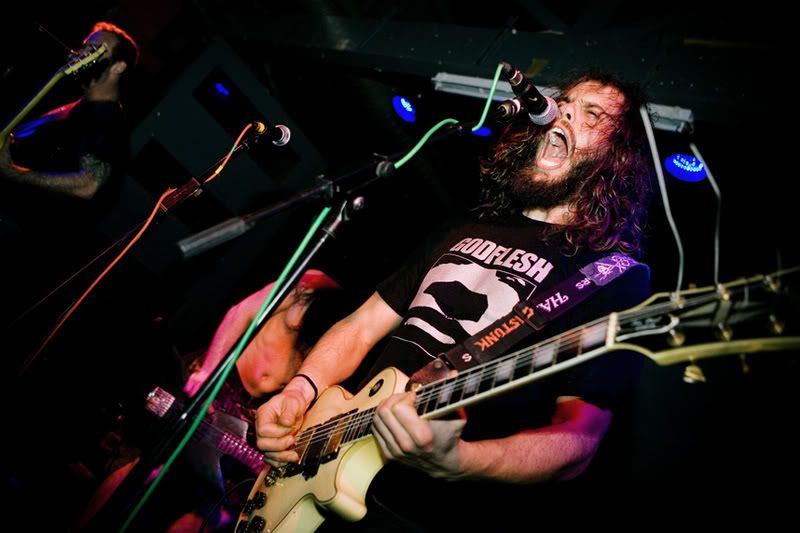 Words & Photos – Steve Gerrard ROCK PHOTO